Carbon fiber
The carbon fiber boot is produced through a private production process developed by VH. The carbon fiber composite used in the VH skate is aerospace grade with a custom formulated high performance epoxy resin. The carbon fiber strands are directionally orientated to provide optimal strength and support where needed.
Eyelet positioning
The eyelets are strategically positioned to optimize forward knee position while maximizing support. This skate was designed for the top eyelets to be used.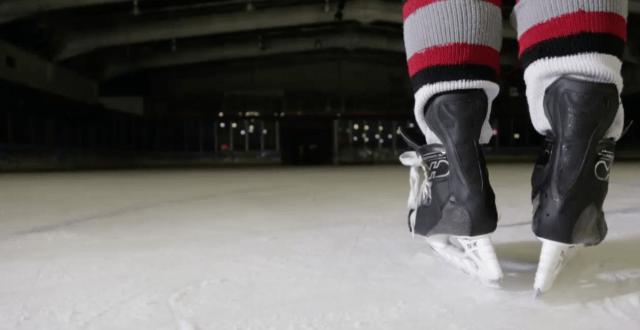 Protection
One important and overlooked area of skate protection is protection, I prefer to based my choice of skates on fit, performance and protection. VH have done extensive impact testing to determine the exact carbon fiber layering require to withstand the kinetic energy from a puck impact at different speeds. The heel is rated up to 80mph while the toe box is rated up to 95mph. The toe box has also been tested for blade impact.
The foot last
 The foot last is a foot shaped form that is used to determine the shape of a skate during production. The significant of this process is that it determines the overall shape of the boot and the position of the wearer's foot within the boot. VH based their foot last on data collected from over 2000 athletics.
Foot bed and insole
The foot bed and insole work together as a foot support and moisture management system. The red foot bed was designed to stay inside the boot during the heat molding process to mold to the bottom of the foot. The yellow and black perforated insole optimizes comfort support and drainage, and overall moisture management.
Liner
The liner is a custom made clarion material, antimicrobial treated with very low water absorption properties.  Elite players produce over 1 L of sweat in a game and most of it funnels into the skate. Therefore moisture management was a critical consideration when determining the best liner and we spared no expense getting clarion, which is the best.
The foam padding 
The foam padding is a combination of ultra lightweight specialty eva foam sourced through the orthotics industry . The structure of the skate heat molds to form a custom fit, but the ankle region still goes through a large range of motion while aggressive skating, and therefore the padding must accommodate this motion while still providing comfort and support. After extensive sourcing, and then testing, we found a low density spring back foam that provides consistent pressure to the foot during the full skating motion, resulting in zero gapping between the liner and the foot.
Improvements
The only improvements I would love to see on the VH Skates is the thickness of the tongue beefed up a little to offer more comfort a extra support. I also changed the laces on my VH to something with a little less stretchy. These are the only pieces of constructive criticism could identify. All round a fantastic product.