Outdoor hockey fun has been taken to a new level with the arrival of the Hockey Sauce Kit (HSK) and Sauce Toss (ST). These products are a Game Kit, Trick Shot Kit and Training Kit all in one. HSK & ST help hockey players of all abilities and ages develop useful keys skills while having fun outside.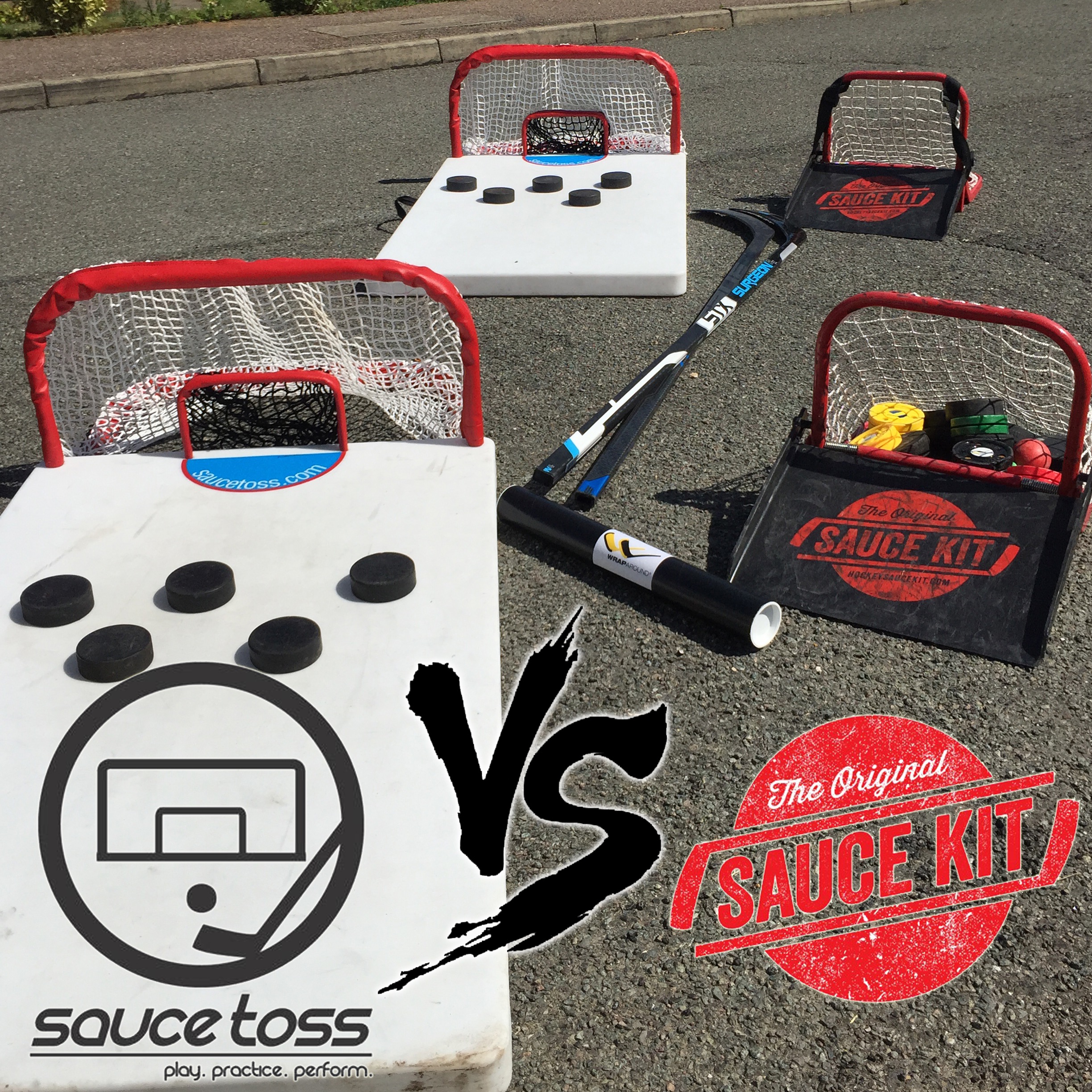 We at Hockeytutorial are big believers of keeping active, so training game kits like these really help players to embrace those values. You won't improve by siting on a video game all day. Get outside, have fun and practice!
Hockey Sauce Kit
The Original Hockey Sauce Kit is the Game Kit, Trick Shot Kit and Training Kit all in one box. The system is essentially two shooting boards with a mini ramp and goal (puck catcher) at each end . The concept behind the game is to sauce the puck from one to the other. If you are creative, there are practically endless set up options for the Hockey Sauce Kit to increase the difficulty, challenging aspect or entertainment of the game.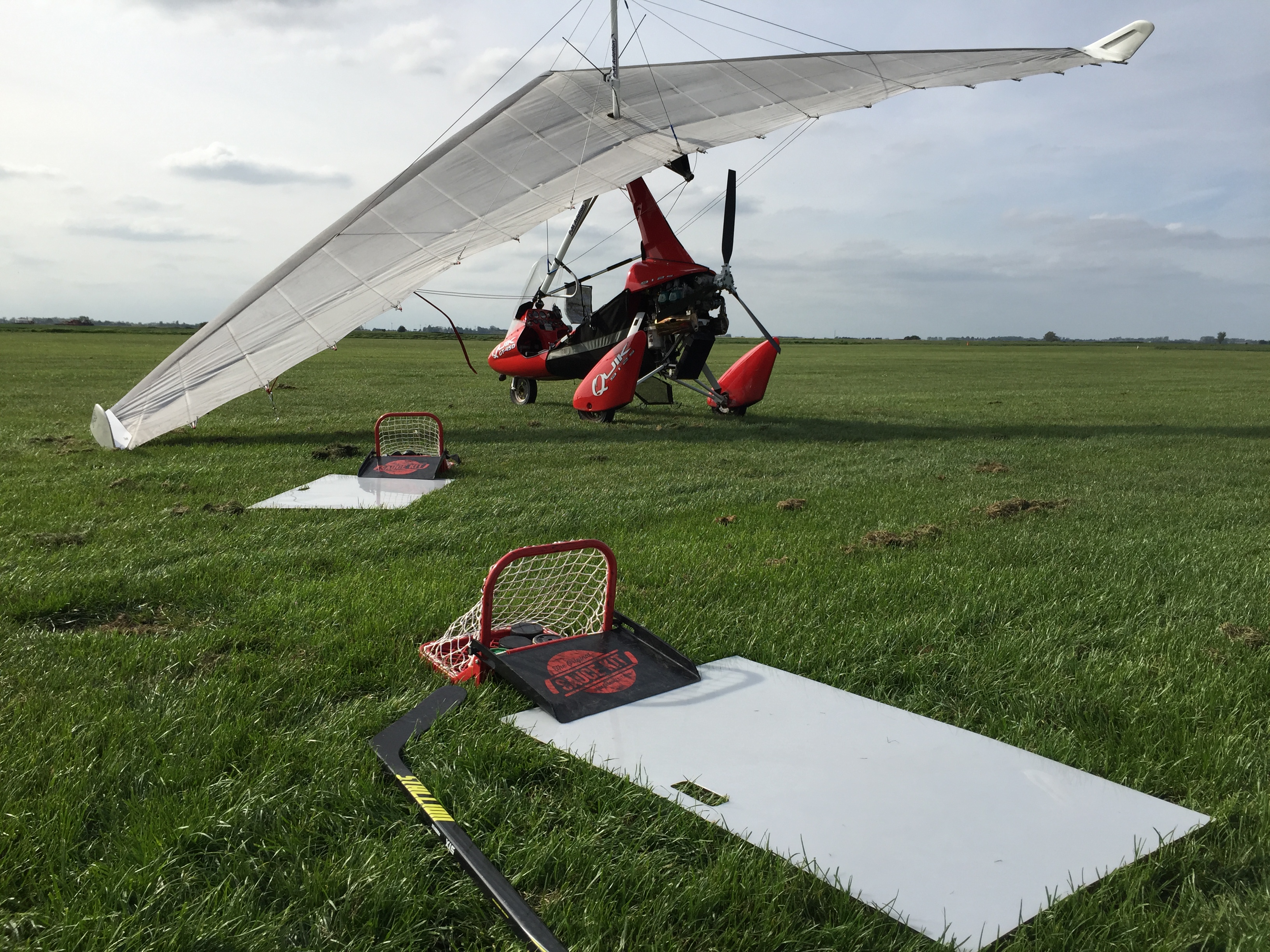 Advantages
Durable
Easy to pack away
Game kit
Trick shot kit
Training kit
Light weight (easy to carry)
Super portable
Addictive
Endless playing and training setups
Fun for the whole family and friends
Disadvantages 
Light weight results in goal shifting each time a puck hits it.
Bolts holding the ramp are temperamental and come off occasionally
Ramp can interfere with game play.
Goal and shooting board are separate pieces which results in more things to carry.
Shooting board makes it difficult to be portable in busy areas with the HSK.
Straps often come loose.
Sauce Toss
The Sauce Toss is game, trick shot and training kit. However, there are a few major differences between the Hockey Sauce Kit and Sauce Toss.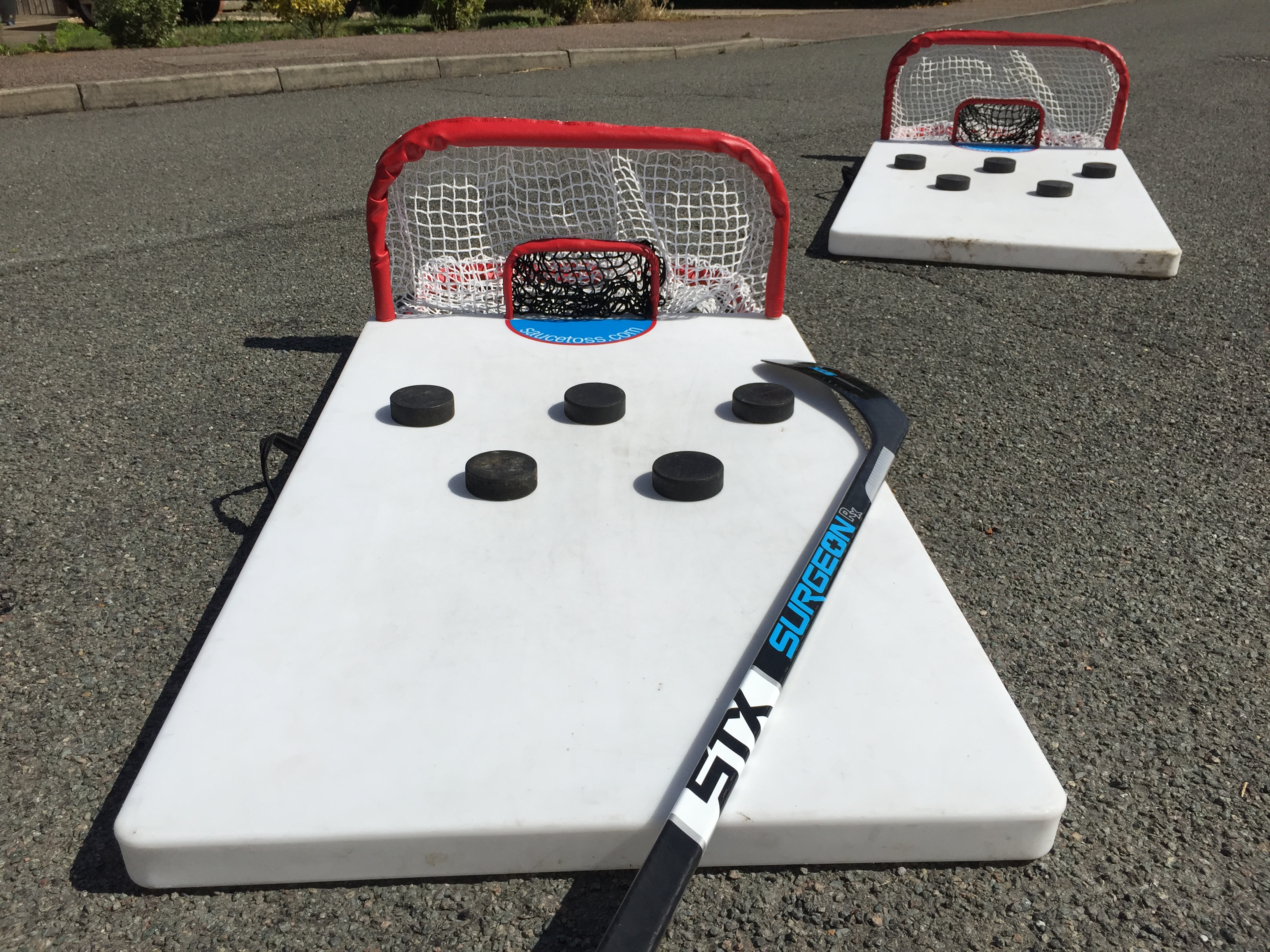 Construction – Although the Sauce Toss features a shooting board, it's built completely differently to the Hockey Sauce Kit's board. ST boards are manufactured  for the purpose of this game system while HSK are a standard shooting board used along some a mini goal.
The photo above shows how thicker the Sauce Toss board is compared to the Hockey Sauce Kit. This provides a much more stable and solid product but at the same time is also drastically increases the weight.
The net on the ST is also completely different in size and construction. Sauce Toss provide two nets on there systems, one large net with a smaller central net. This adds more game options while also creating a far more challenging training aspect.
Advantages
Extremely Durable
The best option for use on uneven surfaces due to thick shooting board.
Large and mini net setup means you can really work on accuracy
Mini central net adds more competitiveness
Mini central create more game/point options
Game kit
Trick shot kit
Training kit
Addictive
Once set up the net and board are connected as one piece.
Endless playing and training setups
Fun for the whole family and friends
Disadvantages 
Heavy reducing it's portability unless using a car
Exposed screws (yet safe) don't demonstrate attention to detail.
Shooting board is raised from the ground which can interfere with game play.
Multiple pieces to connect before and after play. Can be tedious if playing in multiple places.
Necessary board means playing in smaller restricted spaces will be difficult.
Central net can come off during play if using official rubber pucks.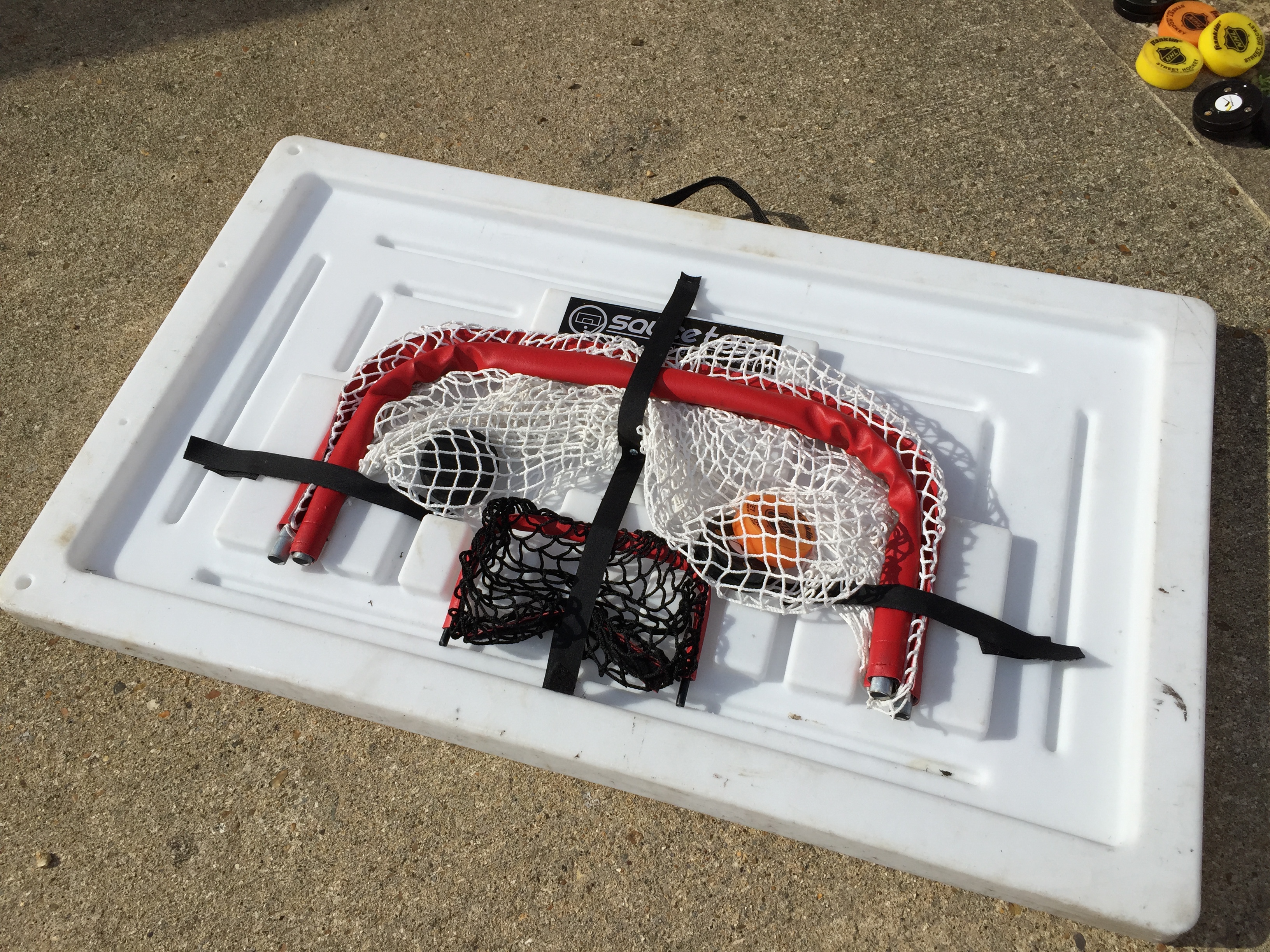 Where to keep your Sauce Toss or Hockey Sauce Kit
We've been leaving our saucing systems outside in the backyard without any issue. If you are lucky enough to live somewhere the sun actually shines, you may want to cover them up if stored outside. The sun can cause discolouring. During cold months, we'd also recommend covering or storing somewhere sheltered.
Round up
Both of these products are excellent to use with your friends, family and teammates of all ages. Use to improve your skills, set up for creative trick shots, warm up before games, or a perfect mini goal for pick up games on and off the ice. Your choice between these two products comes down to probability and weight. If you're looking for something light, small and easy to carry (without a car) then the Hockey Sauce Kit might be for you. We recommend using it without the shooting board and with a Hockey Wrap Around  for enhanced portability and to avoid damaging your stick blade on the ground. If you really aim to work on our saucing accuracy and plan to be saucing in only a few place or perhaps just your backyard with friends, perhaps the Sauce Toss would be ideal. 
Whichever you decide on. Be sure to use coupon code "hockeytutorial" to save money on your order!