IFC has official been given green for a new comedy TV show called 'Benders". This new show will follow a group of friends who play beer rec (beer league) hockey. IFC has ordered eight half hour episodes of the comedy of this new comedy which we are extremely excited to see.
"Benders follows a team of friends bonded by an irrational obsession with their men's ice hockey team, The Chubbys. Paul Rosenberg (Schulz) is the insecure leader whose involvement with the team causes daily havoc for him and his wife Karen (Broad). Along for the ride are Paul's best friends Anthony (Distefano), the charmer who schemes his way through life; Dicky (Gessner), the wealthy hedge fund manager whose answer to everything is in his wallet; and Sebalos (Iskandar) the slacker on a misguided search for his purpose in life. While their hockey skills may be limited, their passion is not, as evidenced by the chaos their devotion to the game creates in their everyday lives." – IFC
IFC has lined up the lead ensemble cast of its upcoming original hockey comedy Benders, premiering Thursday, October 1 at 10 pm ET/PT. Actors Lindsey Broad (The Office, 21 Jump Street), Chris Distefano (Girl Code, The Half Hour), Mark Gessner (Orange is the New Black, The Blacklist), Ruy Iskandar (Gotham, The Blacklist) and Andrew Schulz (Guy Code, co-creator & host of Brilliant Idiots podcast) have signed on to star in the eight-episode series. Creators Jim Serpicoand Tom Sellitti are executive producing along with their Apostle partner Denis Leary.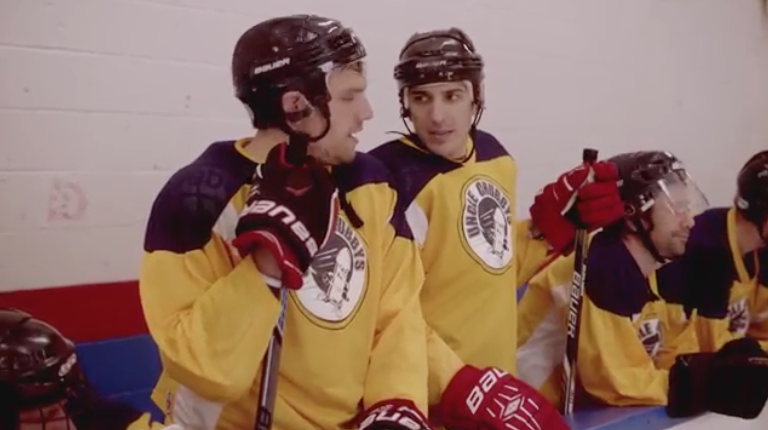 What makes this series even more anticipated is that hockey knowledge isn't a must! "these guys are all about their beer and their bros," said IFC president Jennifer Caserta.
Here is another sneak peek of what we can expect!
[youtube]https://www.youtube.com/watch?t=20&v=FPOx8mohCvk[/youtube]