Possible new CCM Ribcor stick?
In the past weeks, Sid the kid himself has been hosting his own "The Sidney Crosby Hockey School" Camp, playing out of Cole Harbour Place, Nova Scotia, Canada.
His on and off ice development programme was aimed at the next generation of players.
As well as passing on his amazing hockey knowledge, he also gave us hockey gear nerds something new to get excited over, a brand new, fresh looking CCM Ribcore stick.
Back in 2004, when Reebok bought CCM hockey, they continued to make both brands of kit, but most recently Reebok have been wiggling their way out of hockey. Leaving CCM to pick up sticks and lead the way for themselves in the hockey market. We first had clues towards this when certain members of Reeboks sponsored athletes started donning CCM branded equipment, for example Datsyuk making the switch to the Tacks stick and CCM branded gloves, Hossa with what looked like a Reebok 11k helmet, but with CCM stickers in the Stanley Cup Playoffs, also seeing guys like Pavel Datsyuk, Patrice Bergeron, Marc-andre Fleury and Roberto Luongo making the switch. Also more recently when CCM then went onto took over the Ribcore line, an already impressive line of equipment developed massively by the guys at CCM, allowing CCM to now put forward 3 exclusive ranges of equipment for every different style of player. This will now open the door for CCM to take on many of reeboks key attributes like their flagship skate pump and iconic helmet shells, as CCM have put the pump on their new line of Ribcore skates, and CCM will be using a very similar helmet shell to the Reebok 11k, for their New Resistance helmet, using the same R.E.D Technology and impact pods seen in the first resistance helmet. Im very excited to see what CCM Hockey have instore for the future. #MadeOfHockey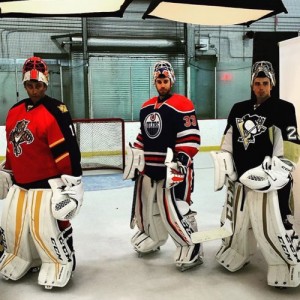 Do you think this is a new CCM Ribcor stick? Leave your thoughts below.