In this article we'll be taking a look at some of the best gift ideas for ANY hockey player. Regardless of if its Christmas or Birthdays, we'll have something for every type of hockey player.
1. Buying new ice hockey equipment
This is probably the most obvious gift for any player but we recommend approaching this area with caution. Some pieces of hockey equipment are best purchased with the player there to try them on. This is because some brands sizing and fit can be totally different to what your player is use to. Here is a video on "How To Buy Ice Hockey Equipment" for more information on this subject.
Buying a new hockey stick as a gift for a hockey player
A new hockey stick is the easiest and probably one of the best pieces of a equipment to replace/upgrade. The great thing about buying a stick is all the information you need relating to its specifications is written on the stick shaft. It's best to take photographs of all the writing and numbers on the stick to use while purchasing a new one.
Stick details you need to have:
Flex
Curve
Grip
Left or right handed
2. Custom hockey stick gift from Zeal Hockey
A unique stick gift idea would be a totally custom stick. Zeal Hockey are an American custom stick fabricator that can do just that. They'll be able to create a totally custom stick design to suit any type of hockey player. They made Hockeytutorial an awesome custom stick exclusively for us.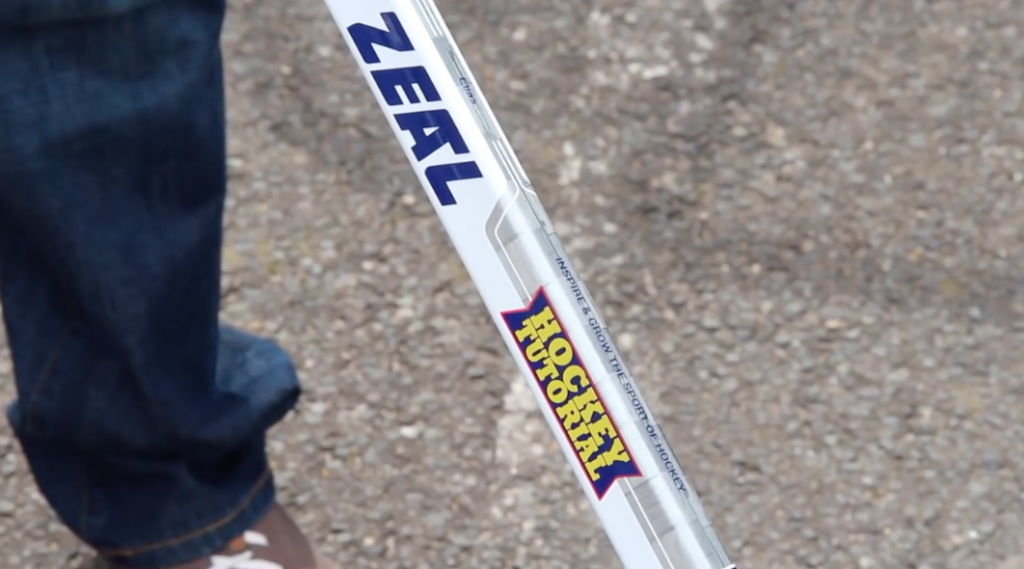 3. Summer Skates gift idea for any hockey player
Summer Skates are a fantastic gift idea for any type of hockey player. Summer Skates are incredibly comfortable customisable sandals that players can use both indoors and outside to show their swag any time of the year. Players can have their team or company logo attached to the top of their Summer Skates to add a personal touch.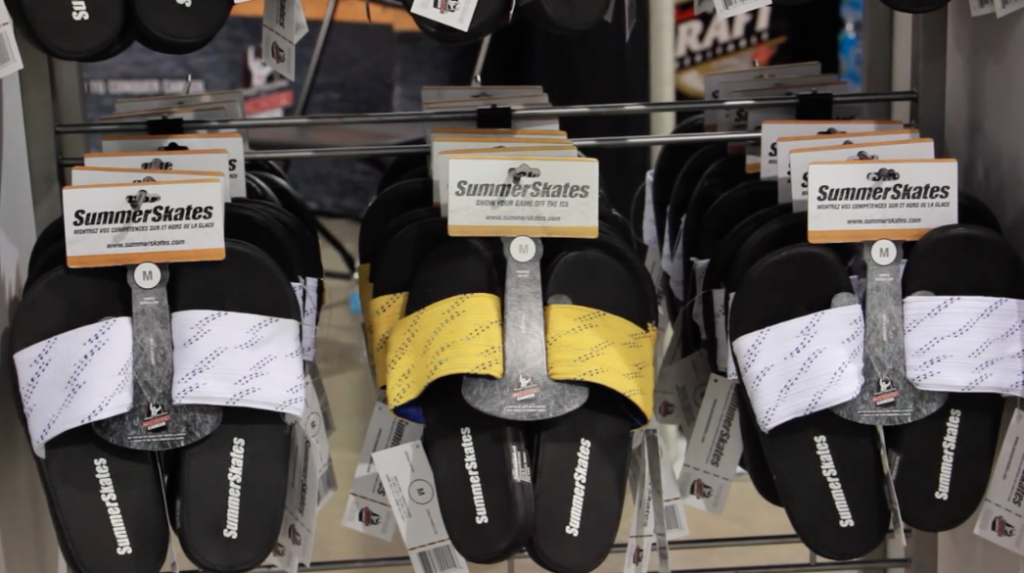 4. Hockey Wrap Around – Off-ice hockey stick protector
The Wrap Around is an off-ice stick blade protector that will allow any player to use their very expensive stick on any rough surface without ruining the stick blade. They'll be able to practice both stickhandling and shooting ANYWHERE!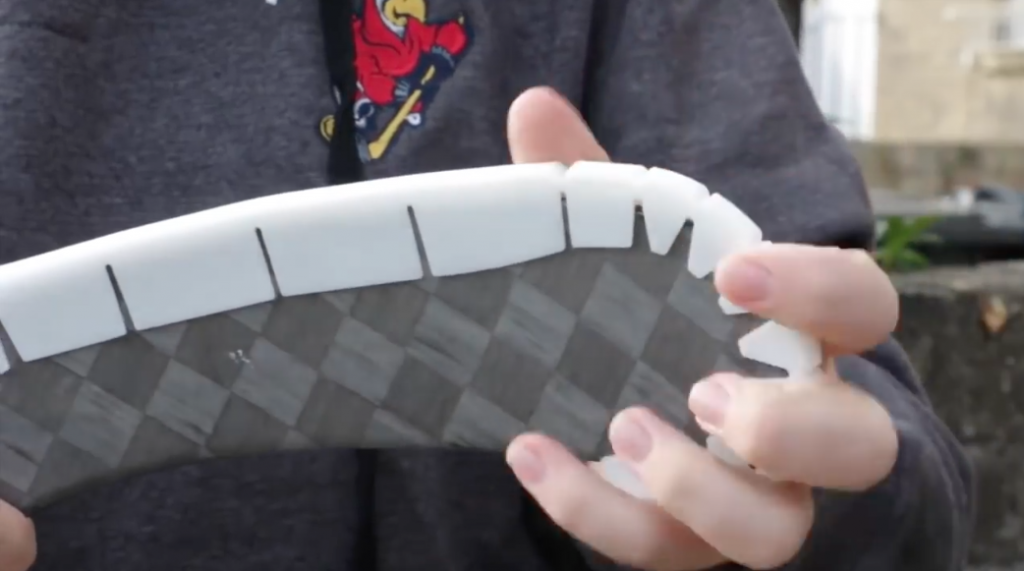 NEW Wrap Around ICE – 
5. MY PUZZLE Dryland training tiles by Hockey Revolutions
Another great suggestion is MY PUZZLE Drylands Training tiles. They are squares of synthetic ice that can be used to build a training area for players to work on their skills at home.
6. MY ENEMY Stickhandling system by Hockey Revolutions
The MY ENEMY System from Hockey Revolutions is a great training aid to practice stickhandling. It provides an versatile training tool to help players develop their hands on or off the ice.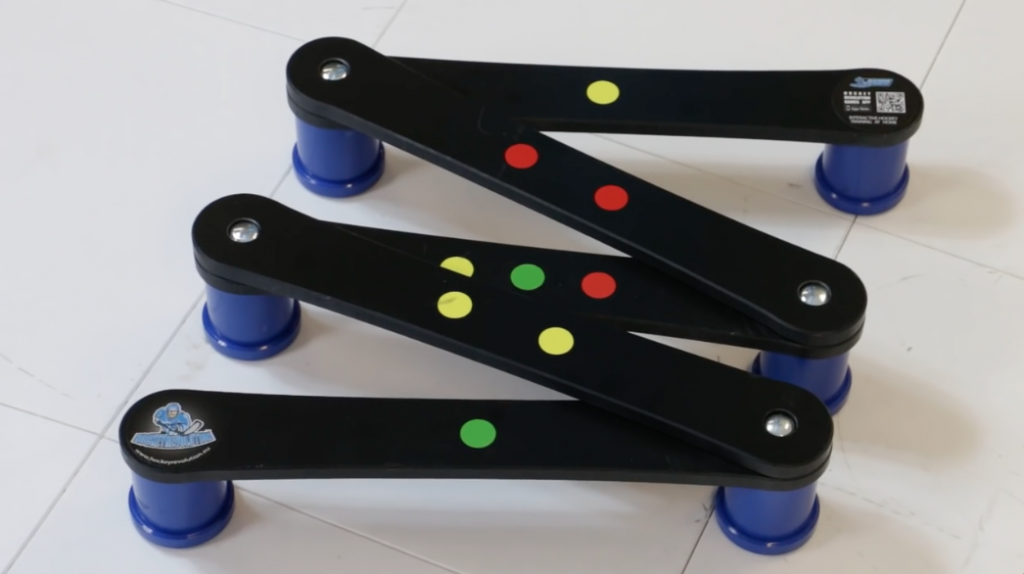 7. MY PASSER Pro One Timer by Hockey Revolutions
The MY PASSER is a puck rebounder that allows players to develop better passing, shooting and one-timers. It's light weight, durable and can be used practically anywhere.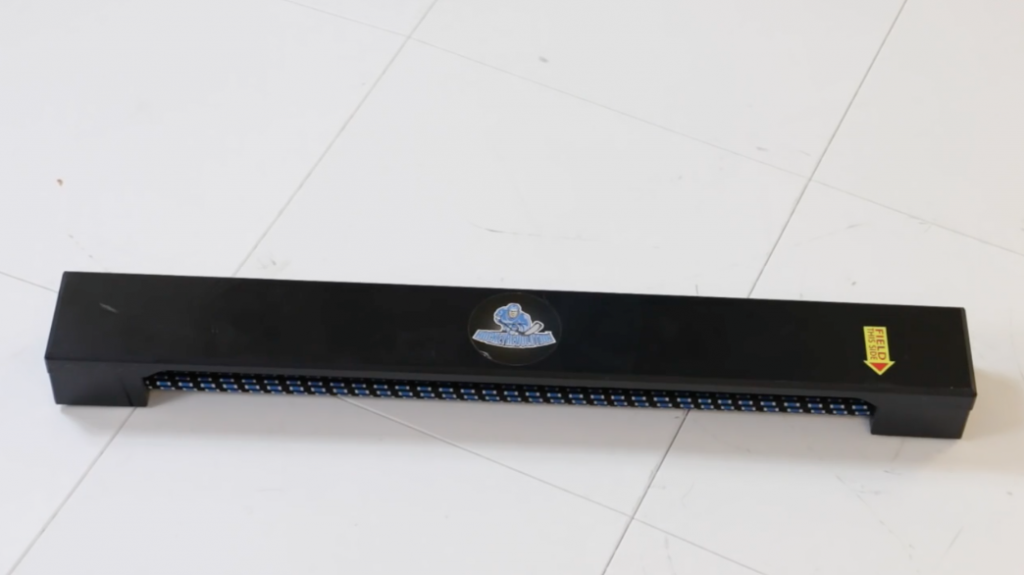 8. Hockey Sauce Kit – Game trick shot and training kit
Hockey Sauce Kit is a game, trick shot and training system all in one. It's fun, addictive and great for anyone that players hockey or not. This system allows players to develop useful skills like passing accurately and saucing while having a great time with friends or family.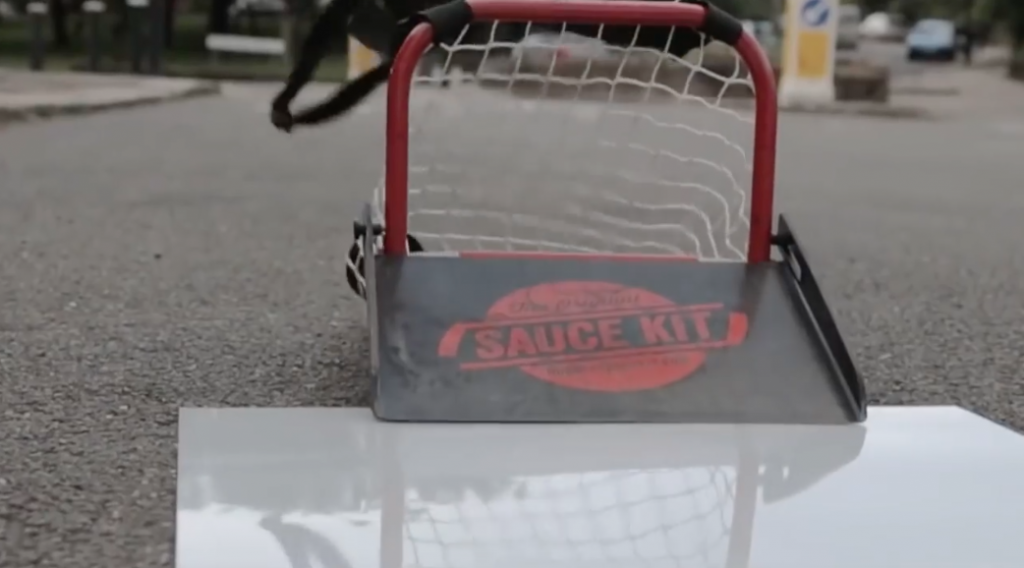 9. Hockey Sauce Toss
Sauce Toss is a game, trick shot and training system all in one with an added degree of difficulty (2 targets, one large net with a smaller net inside). It's fun, addictive and great for anyone that players hockey or not. This system allows players to develop useful skills like passing accurately and saucing while having a great time with friends or family.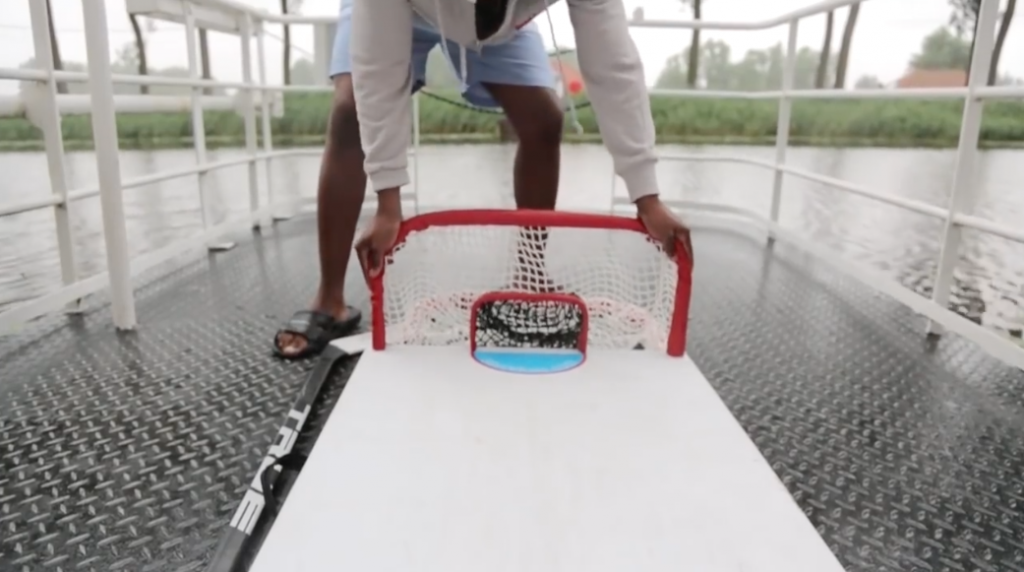 Sauce Kit VS Sauce Toss
10. HOCKEY TAPE!
Any player will appreciate a restock of tape. We all need tape and no one will be disappointed to get this as an accessory.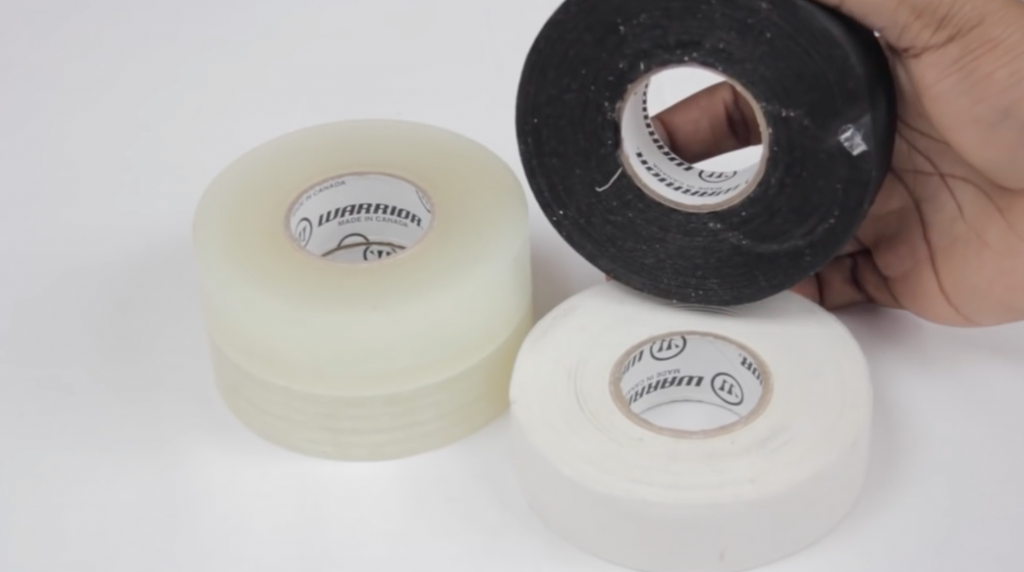 11. Hockey helmet repair kit
Something any player should have in their bag is a helmet repair kit. It shows great organisation and will get them out of a pitch. With one of these small kits, they'll be able to repair their helmet on the fly should anything go wrong.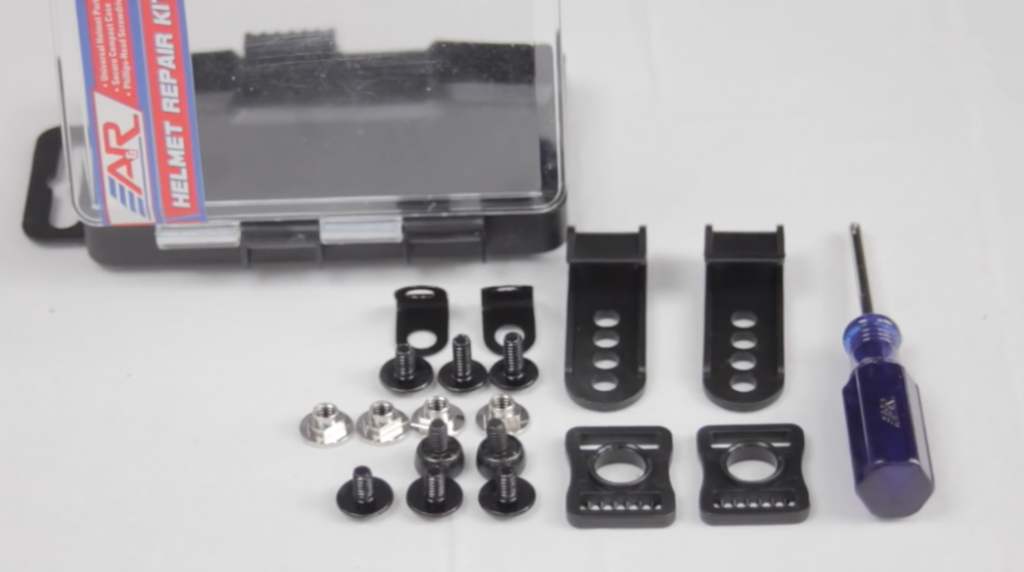 Checkout our video on hockey accessories any players should have in their bag for more gift ideas.
12. Green Biscuit off ice training puck
The Green biscuit is an off-ice training puck that best replicates how a puck slides on ice off the ice. It's held the title as number 1 off-ice puck for a few years now because its simply the best on the current market. No player will be upset receiving one of these to help with off-ice training or street hockey games. Just make sure to use a Hockey Wrap Around to keep your stick blade safe.
13. A&R Glow in the dark hockey balls
We found some pretty awesome A&R glow in the dark hockey balls that would be great for any players that want to take their game outside past sunset. During winter when the sun sets early, these balls and pucks will allow players to keep on playing.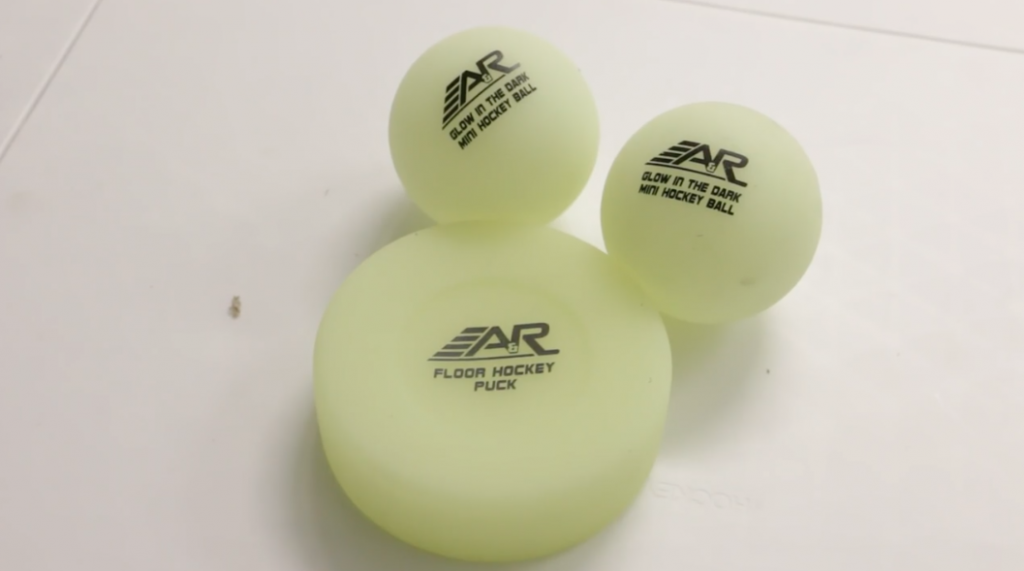 14. Adrenaline POWERFOOT skate inserts
Adrenaline POWERFOOT are inserts for hockey skates that reduce negative space in the toe box and enhance fit, comfort and performance. These don't look like much of a gift but they are extremely comfortable. Once you've used them, its almost impossible to skate comfortably without them.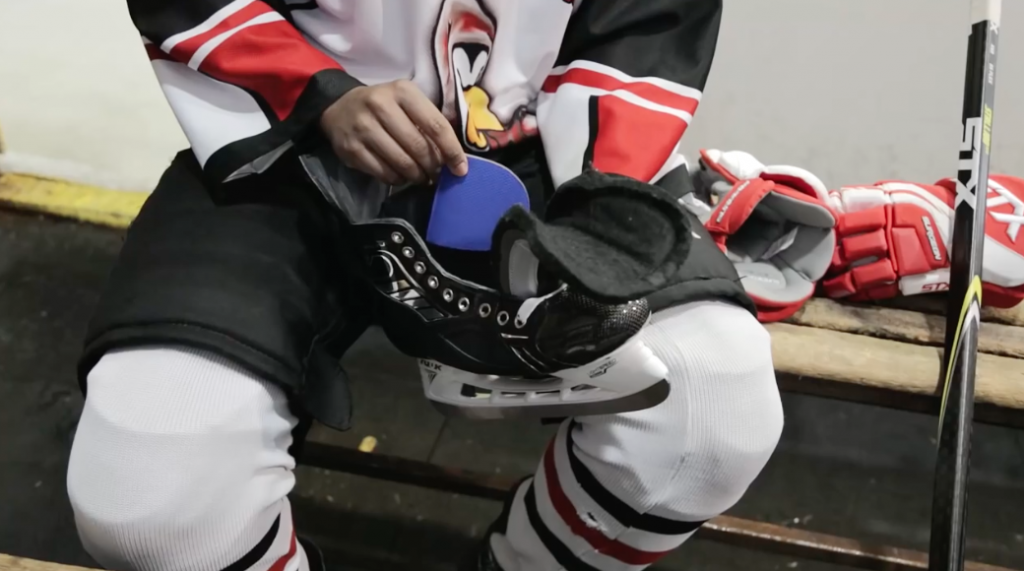 Here is our full review on POWERFOOT
15. Hockey Skate Laces
As simple as laces might seem, this is again something that players need replaced fairly frequently. These would make another great accessory to help get your player through the next season.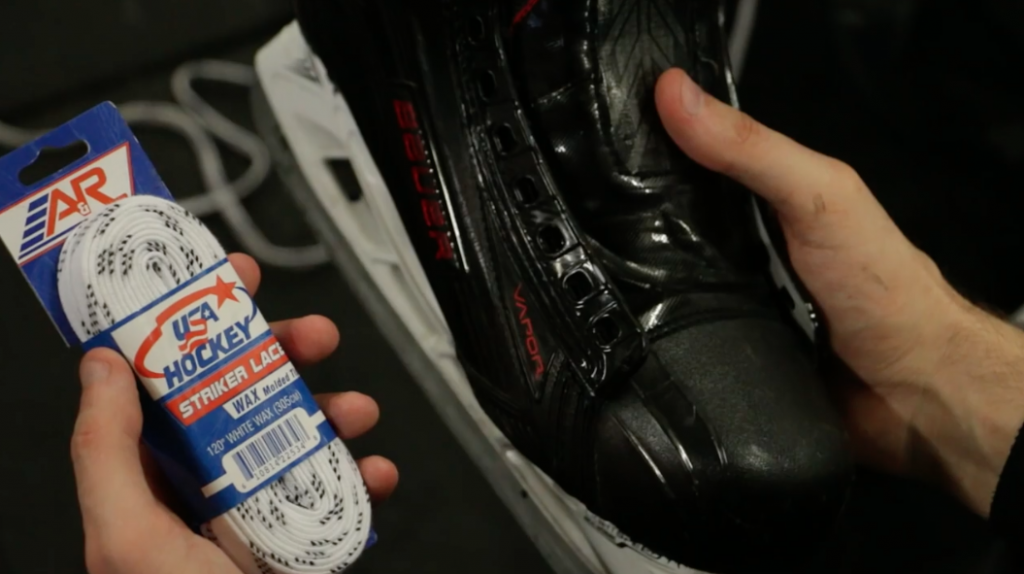 16. Buttendz hockey stick grips
Buttendz are a hockey stick tape alternative for the top of the stick. Instead of using tape on the top of your stick, simple slide a Buttendz on instead. They offer enhanced grip and control over your stick while providing a very comfortable feel. Available in a variety of colours and shapes, theres something for every kind of player. Another great gift option.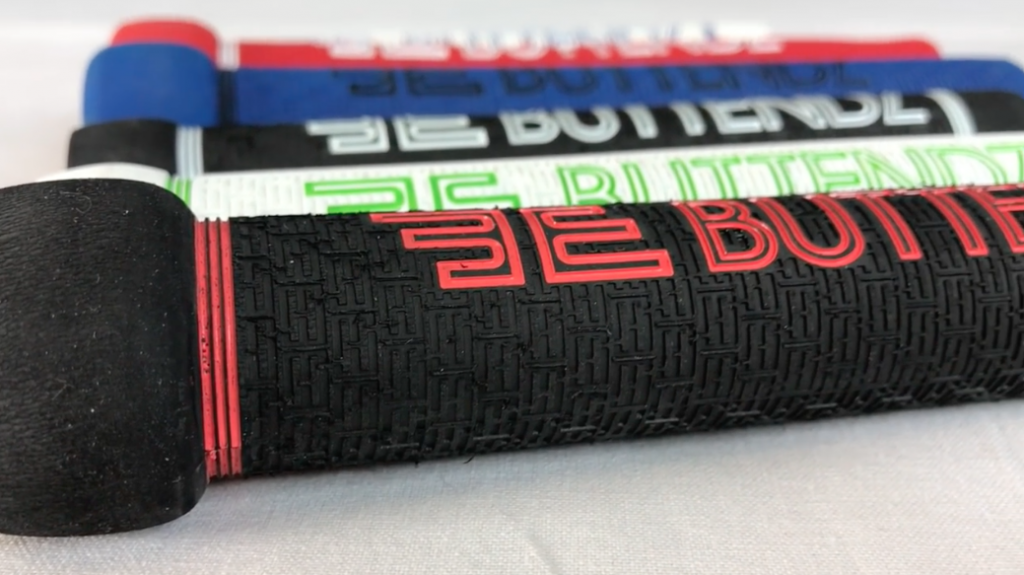 17. The latest NHL video game
No hockey player will turn their nose up at the latest NHL game. Straight forward and hours of fun for players preferably over 18.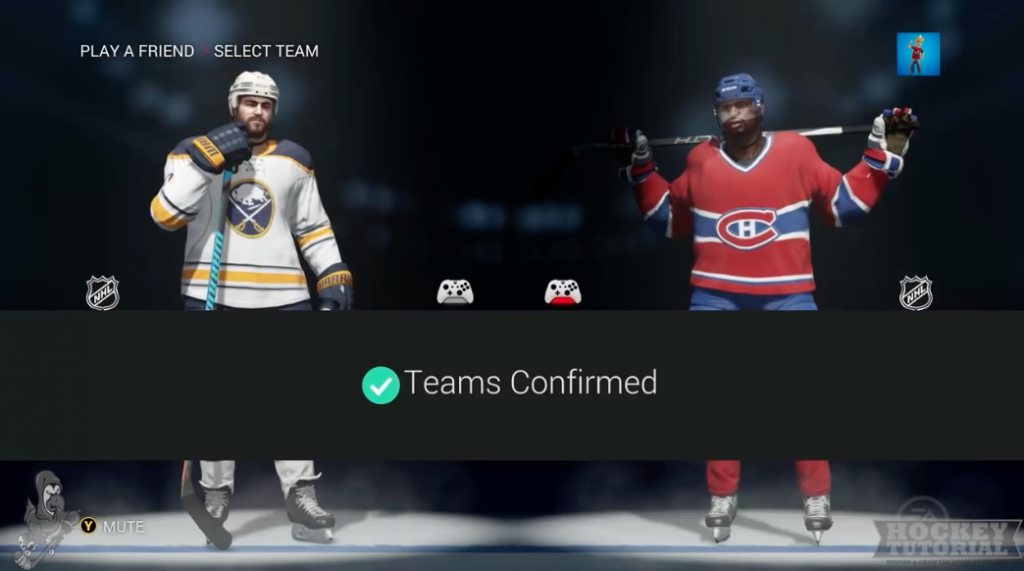 18. New visor of cage
Another simple but great gift idea is a new visor or cage. One of the most fundamental pieces of equipment which often goes overlooked once it becomes beaten up. A new visor or cage will always be a great gift for any player to receive.
19. ProSharp HOME Skate Sharpener
A serious gift!
Personal skate sharpeners have always been an incredibly useful idea. The problem has always been finding one that produces a worthy result. ProSharps HOME unit does this with ease. We can fearlessly say that the quality of sharpen will easily rival the best you've had in your local Pro Shop. The most undertone point about using a ProSharp HOME over visiting a Pro Shop is the consistence. As your  ProSharp HOME unit is a fine tuned and incredibly accurate machine, it will produce the exact same finish and sharpen every single time you use it. Consistence is key! Regardless of how long your local sharpener has been honing their skills, they are human, which means human error. It's impossible for them to sharpen your runner the exact same way every time you visit. This is where ProSharps HOME unit deliver in abundance! Same consistence feeling and result 100% of the time.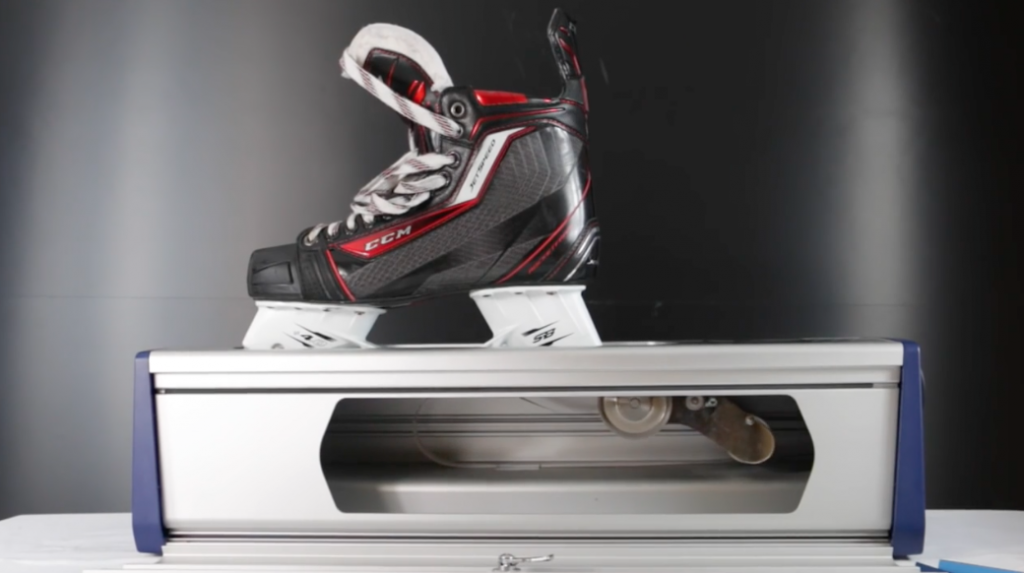 Full Review of ProSharp HOME 
20. Rocket Dryer or Drying Rack
Rocket dryer is a recreational equipment dryer that will take ice hockey equipment (including skates) from wet to dry in 45-60mins. It's a must have for anyone living with hockey players as drying your equipment regularly will prevent the build up of bacteria which equals no horrific "hockey smell". Another option would be a hanging rack, although not as effective as the Rocket Dryer, its still a much better option that leaving equipment in a bag day after day.
21. New Bag hockey equipment bag!
There are a few awesome bags on the market right now. One of our favourites is the GRIT Airbox which comes complete with removable storage dividers to keep your equipment organised (and easy to find and pack). What is easily the best feature of this bag is the cut resistant breathable mesh that allow airflow in and out of the bag while its closed.
Closer look at the Grit Airbox –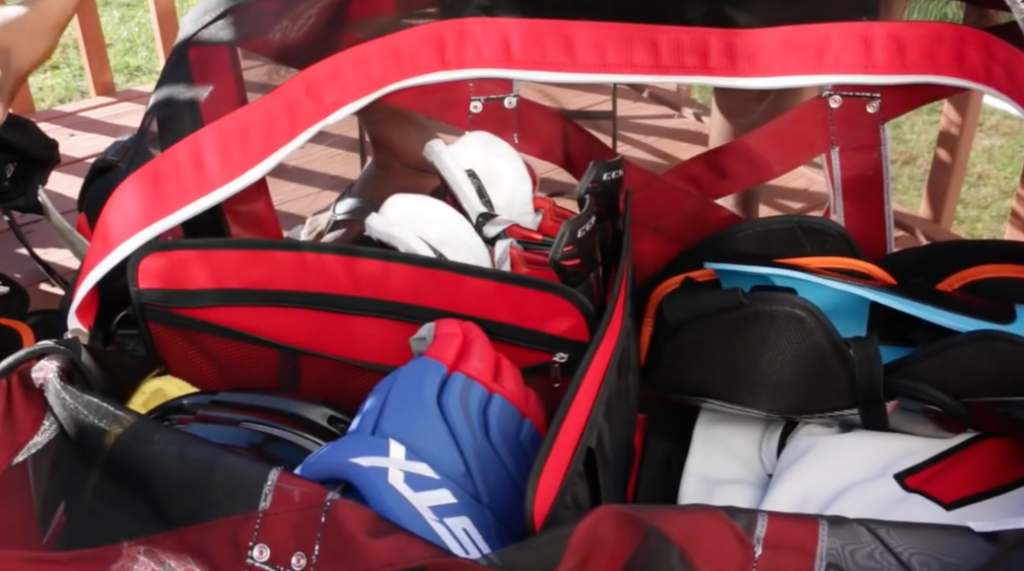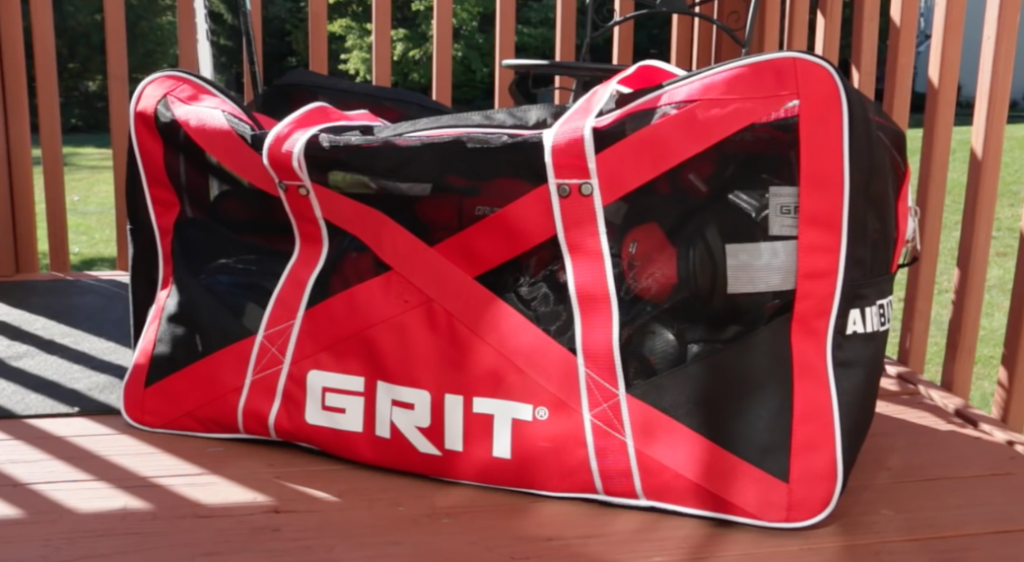 Another fantastic bag option would be Pacific Rinks player bag. This bag also features removable adjustable storage dividers. This will help to keep any player organised and reduce stress of searching for small items lost at the bottom of their old unorganised hockey bag.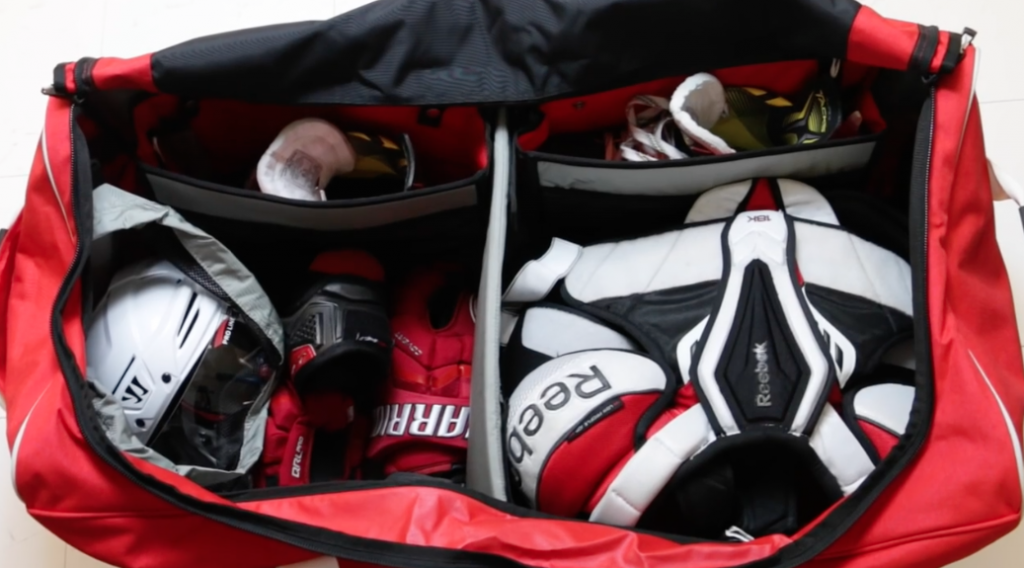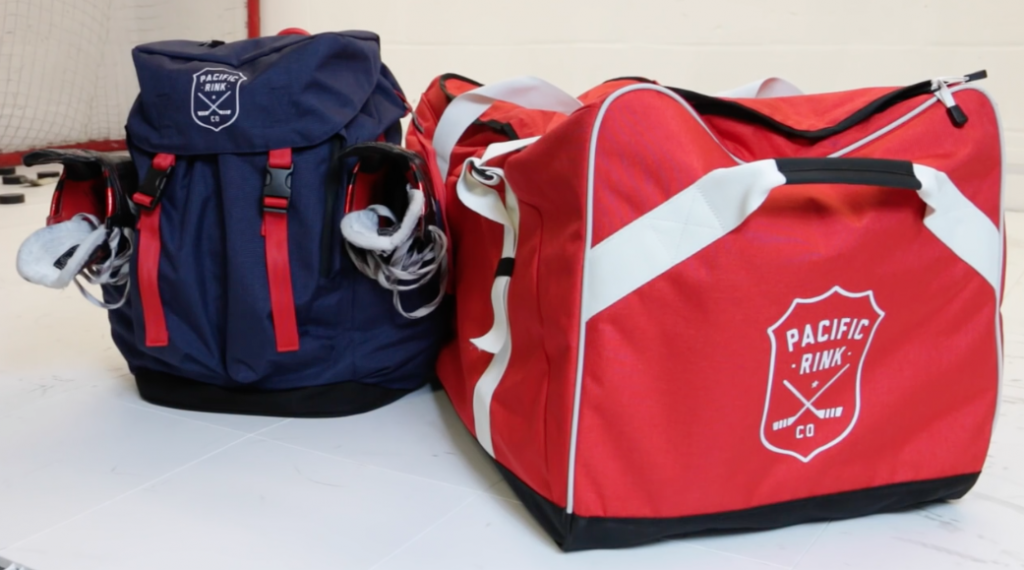 In addition to the Player Bag, Pacific Rink also have a Pond Pack. This bag has been designed for players that don't need to take their full equipment to the rink or pond (refs, coaches or pond hockey players etc). It's incredibly compact yet still spacious, comfortable for walks to the pond and holds everything from skates, helmet, gloves, extra clothes and jerseys with amble space for a water bottle or any other accessories.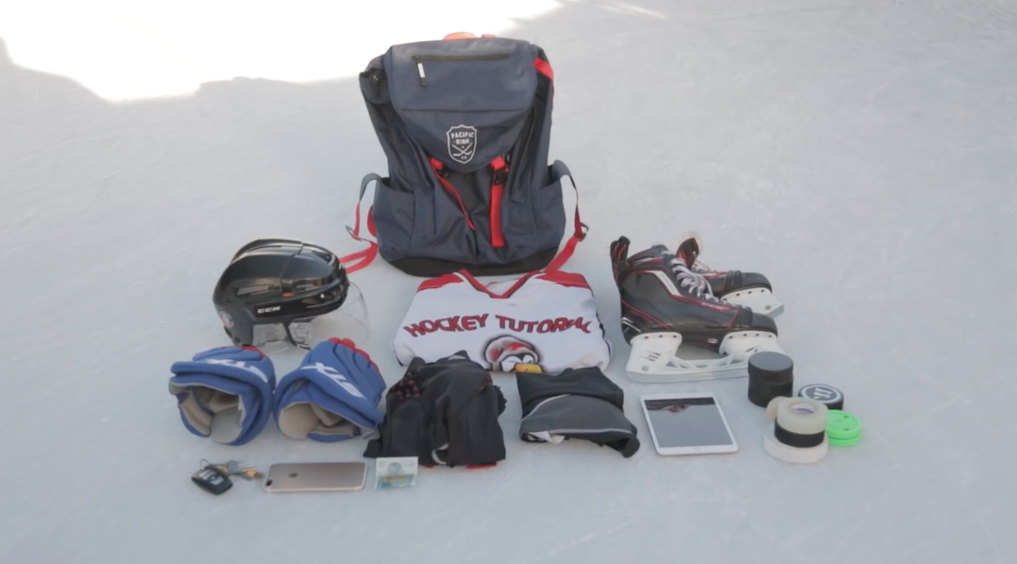 All of the above fits instead with plenty of space remaining. We're looking forward to using the Pacific Rink Pond Pack this winter in Finland.